Discussing the challenges in the professional training of the Organizational and Work Psychologist was the main objective of the roundtable "Academic training and the labor market: two sides of the same coin?", which took place at Campus Brotas, on the night of May 3rd. With the in-person participation of Psychology students from Bahiana and via web conference of other academic and professional segments, the event received as debaters the permanent professor of the Graduate Program of the Institute of Psychology at UFBA and president of the Brazilian Society of Organizational and Work Psychology (SBPOT) and the psychologist and manager of projects by Véli RH, Flávia Guerreiro, mediated by the professor of the Psychology course at Bahiana Carolina Aguiar. The event was a "Warm up" for the III Meeting of Organizational and Work Psychology of Bahiana which takes place on June 8 at Campus Cabula.

Also present were the coordinator of the Psychology course, Sylvia Barreto, the manager of the Psychology service at the Medical Center of the Bahiana Saúde, Myla Arouca, and the course teacher and coordinator of the Center for Studies in Psychosocial Processes and Work (NEPPT), Eliana Edington da Costa e Silva.

In her speech, Flávia highlighted the importance of adding work tools, such as management software, working with metrics and planning. However, she says that there is no good planning if the HR manager does not know how to listen and pay attention to people. Another point made by the guest was the role of the psychologist within organizations. "The organizational psychologist acts as much as the clinician and can indeed promote the well-being and mental health of people within the organization."

Among the obstacles in the career of the organizational and work psychologist, Adriano Peixoto looked at the academic training in graduation, which, according to him, delivers the general psychologist to the market, even though the course has its emphases defined, as in the case of Bahiana which has Health and Work. "This knowledge needs to be expanded in internships and in postgraduate courses. All of this will interfere with how the market perceives this professional."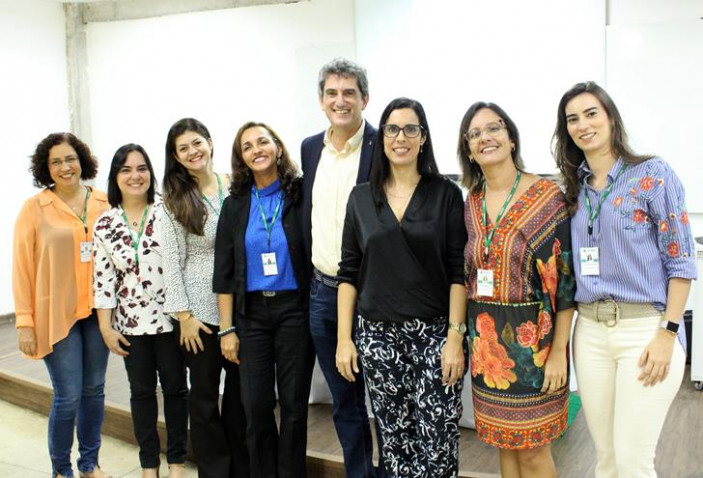 bahiana-esquenta-psicologia-mercado-trabalho-03-05-2018-2-20180508193510.jpg