SIPAT mobilizes employees of Bahiana
Between September 30th and October 02nd, around 250 employees of the three Fields da Escola Bahiana de Medicina e Saúde Pública participated in activities that integrated the Internal Work Accident Prevention Week - SIPAT, an initiative of the Internal Accident Prevention Commission. During the three days, there were lectures, Labor Yoga classes and relaxation techniques, raffles and experiences. A vaccination post was installed in all campuses, which reached the mark of 50 immunizations.
The actions began on September 30, at Academic Unit from Nazaré with a Yoga Laboral class with Prof. Edna Dinis and Massages Therapists with the therapist Eliane Haje. Still in the morning shift, the program continued with an experience coordinated by the Psychology professor, Maria Antonieta and the lectures "Oral Health", given by Dr. Milena Rocha, from Odonto System, and kits for oral hygiene care were distributed, in addition to of fluorine.
In the afternoon, it was the turn of the lectures on Prevention of Work Accidents with Antônio dos Santos, safety technician, First Aid with Dr, Márcia Lemos and Ergonomics, with Adryanna Cardim, physiotherapist. A stand of PPE's: Personal Protective Equipment was set up, with the presentation of the equipment by Mr. Jorge representative of the Mavaro company.
On October 1st, it was the turn of the employees of the Academic Unit from Brotas participate in the activities. On this day, the Infectology League - AILA was also part of the program. which addressed the topic of infectious and contagious diseases.
SIPAT had its last day of actions in the Academic Unit of the Cabula. In addition to the activities that were part of the schedule of the Fields de Nazaré and Brotas, the lectures "Diseases caused by smoking" were also held, with Prof. Jader Donto; "Prevention measures in occupational health", with prof. Ana Márcia and occupational therapist; and "Taking care of the vision", with prof. Guilherme Castro Lima de Carvalho, ophthalmologist.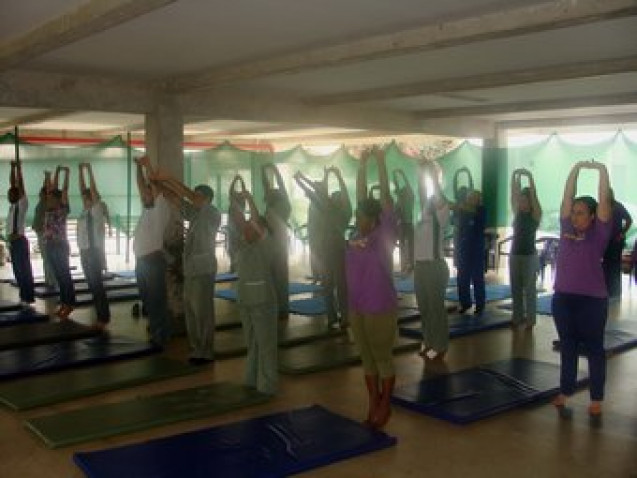 PHOTOS_SIPAT_BROTAS_2008_(17)1.jpg