From May 16th to 20th, the Medicine course at Bahiana held a course for pregnant women at the School's Brotas Academic Unit Bahiana of Medicine and Public Health.

The program was free, open to the public and brought together pregnant women and their companions in order to insert medical students in the context of community health, promoting lectures on issues relevant to pregnancy, such as prenatal care, feeding guidelines for a pregnancy healthy, alcohol and drug intake during pregnancy, rights during pregnancy, among other topics.

"The academy and the community both benefit from the course, as students have the opportunity to experience preventive practices and pregnant women, along with their companions, can resolve their doubts about the pregnancy, receiving guidance that allows greater safety during this period, through dynamics and lectures given by the students, thus enabling a greater knowledge of the transformations of the body during the gestational period", explains the course coordinator, Prof. Maria Cristina.

According to student Gabriela Lins, from the 3rd semester of the Medicine course, the programming is important, as it demonstrates the role of the academic in education and guidance in health in the community.

"We not only offer support, but we also learn from pregnant women. It's an exchange of information. We work during the program with some dynamic questions regarding pregnancy and, through this, we can analyze your prior knowledge and, based on our scientific knowledge, be able to clarify doubts and guide them, thus enabling a healthier pregnancy." reports Gabriela.

Hairdresser Marilúcia Santos reports that the program addresses themes relevant to the subject and that, as it is her first pregnancy, a free course with full support for pregnant women and their companions is very valid. "The course is very interesting and each subject explained during the program is, precisely, a stage that I will experience with my baby. In addition, I can clarify many doubts about the gestational period", guarantees the mother-to-be.

"Every event for the community is important and trying to pass on our knowledge acquired in the academic environment to the community is important, as pregnancy is a delicate period for women. Much of the information we report here, in the course, is carefully studied with the support of our professors", reports student Grabriela Lins, 3rd semester of the Medicine course.

During the program week, lectures were given with the obstetrician Dr. Davi da Costa about Zika in pregnancy and with the psychology professor Ubton Nascimento on "Father, mother and child relationship since the intrauterine period". Throughout the activities, topics such as breastfeeding, care for the newborn and mother-child relationship during the intrauterine period were discussed, in addition to giving away gifts to pregnant women and a drawing for a beauty kit.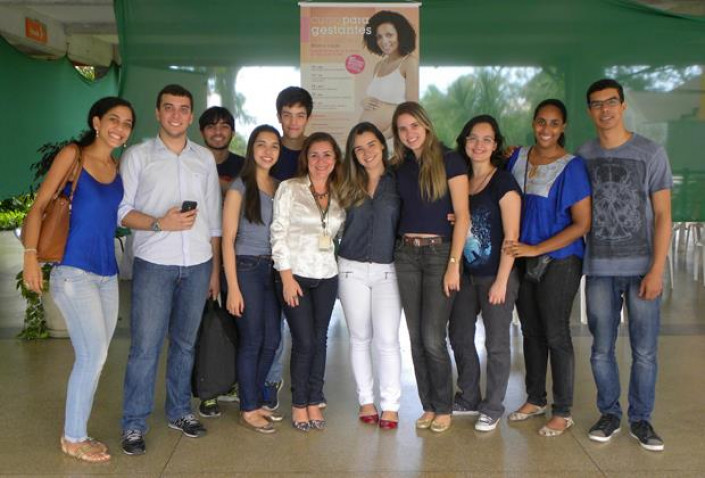 Bahiana-Course-Pregnant Women-20-05-2016_(13).jpg